Updated By: LatestGKGS Desk
Cyclone Fani Details, Origin, Name Meaning, Destruction Capacity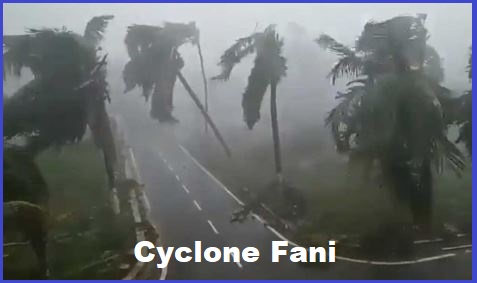 Cyclone Fani Details, Origin, Name Meaning, Destruction Capacity
Highly destructive & severe Cyclone Fani hit the Odisha coast in Puri on 3rd May 2019 early morning with wind speed or around 175-185 kmph. It is likely to intensify more upto 200 Kmph.
The India Met Department (IMD) has issued a "yellow warning" for Odisha, predicting heavy to very heavy rain in several areas. Tamil Nadu and Andhra Pradesh have been placed on high alert too.
As a result, the Indian Navy, the National Disaster Response Force, and the Coast Guard are on high alert.
Cyclone Fani originated in South East Bay of Bengal. It was formed at the low-pressure region in the southeast of Sumatra (an Indonesian island), which further intensified into a depression.
The name of the Cyclone 'Fani', pronounced as 'Foni' was suggested by Bangladesh. It means 'Snake' or 'hood of a snake'.
Severe cyclonic storm Fani will get 'category 4' storm status on a five-step Saffir-Simpson scale or Saffir–Simpson hurricane wind scale.
Category 4: Winds range from 131 to 155 mph. Category 4 hurricanes often include long-term power outages and water shortages lasting from a few weeks to a few months, so again, it's important for any remaining residents to have significant nonperishable food and water supply at hand.
Yellow Warning: A yellow warning indicates severely bad weather, warning people who are at risk to take preventive action. Yellow also means that you should plan ahead thinking about possible travel delays or the disruption of your day-to-day activities.