Updated By: LatestGKGS Desk
World Laughter Day Celebrations On 5th May 2019 Theme, Details, Aim, History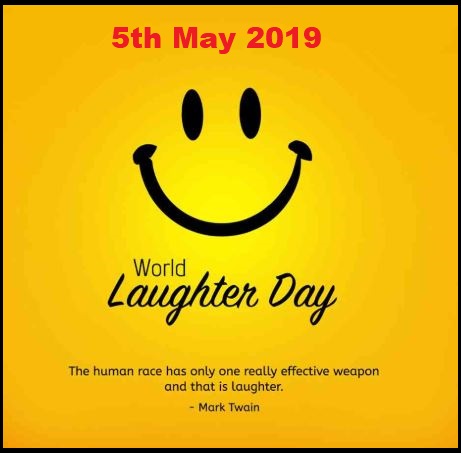 World Laughter Day Celebrations On 5th May 2019 Theme, Details, Aim, History
World Laughter Day is celebrated every year on the first Sunday of month May around the world. This year in 2019, it falls on 5th May 2019.
World Laughter Day aims to promote laughter therapy which is important for maintaining a healthy life. It also raise awareness about laughter and its various healing benefits.
World Laughter Day encourages people to laugh the most positive and powerful emotion that has all the ingredients required for individuals to change themselves and to change the world in a peaceful and positive way.
World Laughter Day was first celebrated on 11th January 1998 in Mumbai, India, and was arranged by Dr. Madan Kataria, founder of the worldwide Laughter Yoga movement.
World Laughter Day first celebrations in India witnessed approx 12,000 members from local and international Laughter Clubs who joined together in a mega laughter session.
HAPPY-DEMIC" was the first World Laughter Day gathering outside India. It took place on 9th January 2000, in Copenhagen, Denmark and more than 10,000 people gathered in the Town Hall Square. The event also created a new Guinness Book of World records.