Updated By: LatestGKGS Desk
GK Questions 5th May 2019 General Knowledge, Current Affairs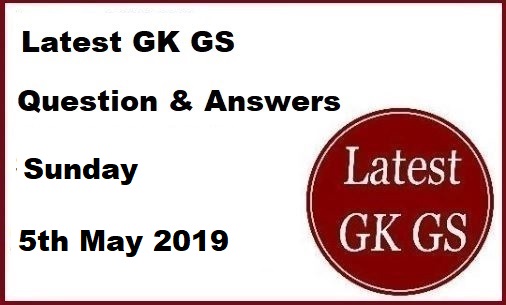 Daily GK Questions 5th May 2019 General Knowledge, Current Affairs
1. When was the World Laughter Day celebrated in the year 2019?
Ans:- 5th May 2019
2. Recently India-Australia formed a Joint Working Group on which field?
Ans:- Counter-Terrorism

3. Indian Navy's which Indian Naval Ship (INS) was decommissioned after 36 years of service on 6th May 2019?
Ans:- INS Ranjit

4. Indian Navy to acquire which 10 helicopters from Russia?
Ans:- Kamov Ka-31 Helicopters

5. In Gujarat which act came into force from 1st May 2019 that will enable to open shops 24X7?
Ans:- Gujarat Shops and Establishments (Regulation of Employment and Conditions of Service) Act, 2019
6. Who was officially crowned Rama X of Thailand?
Ans:- King Maha Vajiralongkorn

7. Recently, Who was named India's envoy to Senegal?
Ans:- Godavarthi Venkata Srinivas

8. Which article won Asian College of Journalism's Award for Investigative Journalism, 2018?
Ans:- Article on Coalgate 2.0

9. Which entities in India signed an agreement to seize evaders to decrease black money generation?
Ans:- CBDT and GSTN

10. Which organization will send food to Cyclone Fani hit areas?
Ans:- Central Food Technological Research Institute (CFTRI)