Updated By: LatestGKGS Desk
ISRO To Launch India's First Solar Mission 'Aditya- L1' Details, Aim, Significance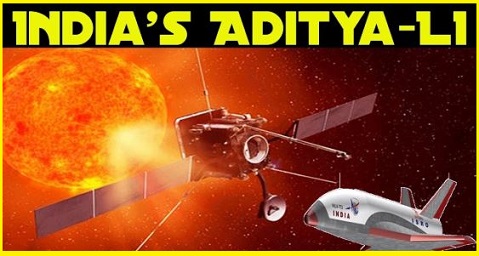 ISRO To Launch India's First Solar Mission 'Aditya- L1' Details, Aim, Significance
The Indian Space Research Organization (ISRO) is planning to launch India's first 'Aditya- L1' solar mission to study the sun early in 2020.
The Aditya- L1 mission will study the sun's outer most layers, the corona, and the chromospheres and collect data about coronal mass ejection, which will also yield information for space weather prediction.
The data from Aditya mission will be immensely helpful in discriminating between different models for the origin of solar storms and also for constraining how the storms evolve and what path they take through the interplanetary space from the Sun to the Earth.
In order to get the best science from the sun, continuous viewing of the sun is preferred without any occultation/ eclipses and hence, Aditya- L1 satellite will be placed in the halo orbit around the Lagrangian point 1 (L1) of the sun-earth system.
The Aditya- L1 satellite was conceived as a 400 kg class satellite carrying just one payload, the Visible Emission Line Coronagraph (VELC). It was planned to be launched in an 800 km low earth orbit.
The Aditya- L1 satellite will be inserted in a halo orbit around the Lagrangian point 1 (L1), which is 1.5 million km from the Earth.
Note: The Lagrangian point is a point where the attraction by the Sun and the Earth becomes equal. The point doesn't experience gravitational force. If you put a satellite there, it won't get deflected, yet your captured data will be accurate.