Badrinath Temple Religious Facts, Details, Features, History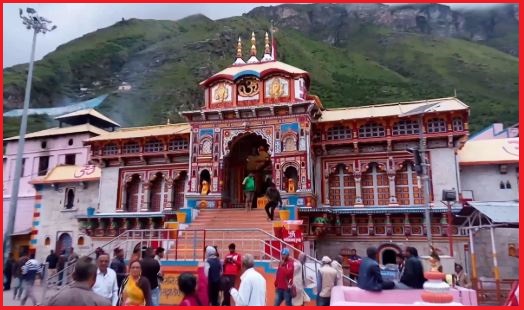 Badrinath Temple Interesting Facts, Details, Features, History
Badrinath or 'Badrikashram' is one of the most oldest & legendary Temples, located in the Chamoli district in Uttarakhand at the height of 3,133 meters. It has many mythical tales associated with it.
It is believed that 'Lord Badrinath' idol appeared by itself. Lord Vishnu was giving a direct glimpse till Lord Krishna's incarnation in Dwapar era and has revealed himself in the form of a Badrinath idol.
Lord Badrinath idol 1 meter (3.3 feet) long and is made from Shaligram stone and is in form of Lord Vishnu, which was worn by Lord Vishnu due to the curse of Goddess Vrinda.
The idol of Lord Badrinath is in YogMudra and is placed in the gold canopy under the Badri tree.
Badrinath idol has 4 hands i.e. Chakra in one hand, Counchshell (Shankh) in second hand and the other two arms are Yoga posture in their lap.
Beliefs/History
According to one Hindu mythological tale, Lord Vishnu had performed rigorous atonement at this place. During his intense meditation, he was unaware of the severe weather conditions. To protect him from the scorching heat of the sun, his spouse Goddess Lakshmi acquired the shape of Badri tree and spread over him. Witnessing this, Lord Vishnu was pleased by her devotion and hence he named the spot after her as Badrikashram.
Another story states that Lord Shiva and Goddess Parvati were once performing tapasya in Badrinath. It was then Lord Vishnu came in disguise as a small boy and disrupted them, by crying loudly. On hearing that Goddesses Parvati asked him the reason behind his mournful behavior, to which he replied that he wanted to meditate in Badrinath. Shiva and Parvati, on discovering Lord Narayan in disguise, left Badrinath and moved to Kedarnath.