Updated By: LatestGKGS Desk
Gwalior Gharana Music History, Features, Culture, Highlights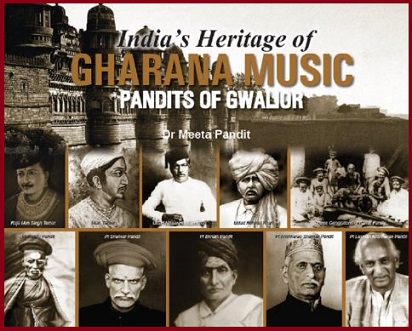 Gwalior Gharana Music History, Features, Culture, Highlights
Gwalior Gharana is the oldest among all the Khayal Gayaki (vocal) styles. The distinctive feature of this style of singing has been noted as its lucidity and simplicity.
Gwalior Gharana started within the period of the great Mughal emperor Akbar (1542–1605). The favorite singers of this patron of the arts, such as Miyan Tansen, who was the most famous vocalist at the court, came from the town of Gwalior.
Gwalior Gharana follows a unique feature of its simplicity: well-known as ragas (melodic modes) rather than obscure ones are selected and sapaat (straight) taans (fast melodic sequences) is emphasized.
Founders - Ustad Hassu Khan, Ustad Haddu Khan, Ustad Nathu Khan
Exponents - Bal Krishna BaIchal Karanjikar, Vishnu Digambar Paluskar, Pandit Omkarnath Thakur, Veena Sahasrabuddhe and Malini Rajurkar
About Gharana
Gharana comes from the Hindi word 'Ghar' which is derived from Sanskrit for Griha, which means 'House'. The music Gharanas are also called styles.
The schools or Gharanas have their basis in the traditional mode of musical training and education. Every Gharana has its own distinct features. The main area of difference between Gharanas is the manner in which the notes are sung.