Updated By: LatestGKGS Desk
Indore's Rangpanchami History, Features, Cultural Importance, Highlights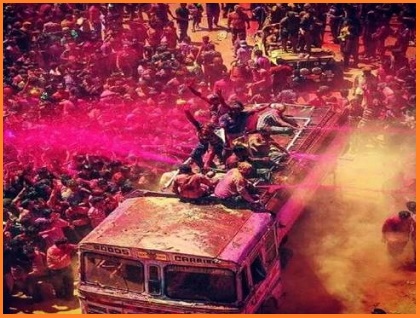 Indore's Rangpanchami History, Features, Cultural Importance, Highlights
Rang Panchami is a spring festival celebrated in Indian states- Maharashtra, Bihar, Uttar Pradesh, Madhya Pradesh and other parts of Northern India.
Rang Panchami is celebrated in accordance with the Hindu lunar calendar and is observed on the fifth day of the Krishna Paksha, the waning phase of the moon during the month of Phalguna.
In Indore, Rang Panchami has historical importance. The festival celebrations take place near the premises of Rajwada while playing Holi with colors with a lot of dance, music, bhaang (Cannabis) and feasting through the day.
In Indore, on the day of Rang Panchami 'faag yatras' are carried out from the Bada Ganpati area of the city, all the way to Rajwada via Malharganj. Usually, people sing and dance, and play with gulal (colors) and join the celebrations by eating sweetmeats, meeting relative
The entire Indore city comes together with great enthusiasm to make this day memorable. Usually, water tankers and color pumps are organized, Palkhi dance and worships are made.
Indore's administration has recommended to include Rang Panchami celebrations Gere in cultural heritage in UNESCO