Updated By: LatestGKGS Desk
India celebrates Minorities Rights Day 18th December: Insight to Minorities in India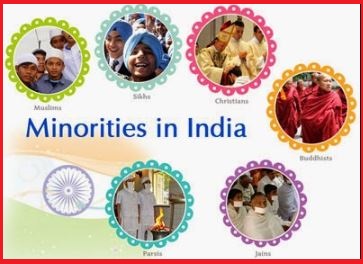 India celebrates Minorities Rights Day 18th December: Insight to Minorities in India: Details, Significance, Highlights
India celebrates the Minorities Rights Day on 18th December 2018. It is observed every year on 18 December, with an aim to promote the rights of Minority communities in India.
The Minorities Rights Day marks the awareness creation about the Minority Rights is the objective of celebrating this day.
Indian states on this day focus on the issues concerning minorities as well as their safety in the state. Various seminars, campaigns, and events are conducted on Minorities Rights Day.
Insight to Minorities in India
The Minorities in India constitute about 19% of the total population which include Muslims, Sikhs, Christians, Buddhists, Zoroastrians (Parsis) and Jains.

J & K, Punjab, Meghalaya, Mizoram, Nagaland and Lakshadweep are the only states where any notified minority is in majority.
The Ministry of Minority Affairs, which was established in 2006, is the apex body in the Union government to carry out various welfare, regulatory and developmental programmes for the minority communities.
A National Commission for Minorities (NCM) has also been set up under the National Commission for Minorities Act, 1992.
The United Nations, on 18th December 1992, promulgated the "Declaration on the Rights of Persons belonging to National or Ethnic, Religious and Linguistic Minorities" to discourage the countries to discriminate amongst people worldwide on the basis of religion, language, nationality or ethnicity.