GK Questions 7th June 2019 General Knowledge, Current Affairs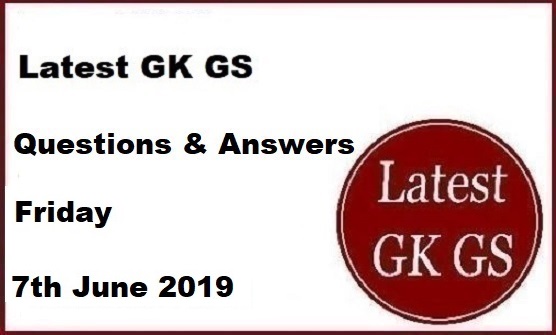 Daily GK Questions Friday 7th June 2019 General Knowledge, Current Affairs
1. When is World Oceans Day observed?
Ans: -June 8th
2. When is World Food Safety Day 2019 celebration observed every year?
Ans: -June 7th
3. When is FIFA Women's World Cup 2019 starting?
Ans:- 7th June
4. Reserve Bank Of India (RBI) eliminates charges on which transactions?
Ans:- RTGS & NEFT Transactions

5. PM Narendra Modi formed 2 Cabinet Committees to tackle what issues of India?
Ans:- Economic growth & Unemployment

6. Under Swachh Bharat which league was launched by Union Housing and Urban Affairs Minister Hardeep Singh Puri in New Delhi?
Ans:- Swachh Survekshan 2020 league

7. Maharana Pratap 479th Birth Anniversary celebrations were held on which date?
Ans:- 6th June 2019
8. US and China war is over which generation internet?
Ans:- 5g Internet

9. Google Map added 3 new Public Transport Navigation Features for which country?
Ans:- India
10. Recently. which veteran Bengali actress joined Bhartiya Janta Party (BJP)?
Ans:- Anju Ghosh