Updated By: LatestGKGS Desk
Dalai Lama Nobel Peace Prize, Christmas Humphreys Award winner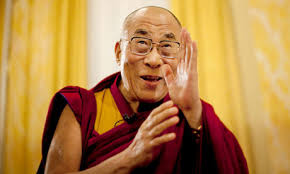 Dalai Lama Nobel Prize Winner, Tibet Spiritual Leader, career, achievements
Dalai Lama is listed in famous Spiritual Leader, political leader and religious leaders.
Dalai Lama spend his entire life in promoting humanity as Dalai Means ocean and lama means teacher.
Fearing assassination, Dalai Lama fled from Tibet and lives in Himachal Pradesh with refugees.
Dalai Lama conferred with Nobel Peace Prize, Christmas Humphreys Award
Dalai Lama established Tibetan Parliament in exile and has been an advocator for the Tibetan across the globe.
Dalai Lama is in favour of non-violence, peace and significance of compassion.
Dalai Lama is the head monk of the Gelugpa lineage Tibetan Buddhism and is considered to be the reincarnated souls in the line of tulkus.
Dalai Lama was honoured with Nobel Prize in peace in 1989 for his efforts for liberation of tibet.
The Buddhist Society of United Kingdon conferred Dalai Lama with Christmas Humphreys Award in 2005.
Dalai Lama is the recipient of Congressional Gold Medal which was conferred by American lawmakers in 2007.