Updated By: LatestGKGS Desk
Donna Strickland Profile, Achievements in Laser Physics Research, Awards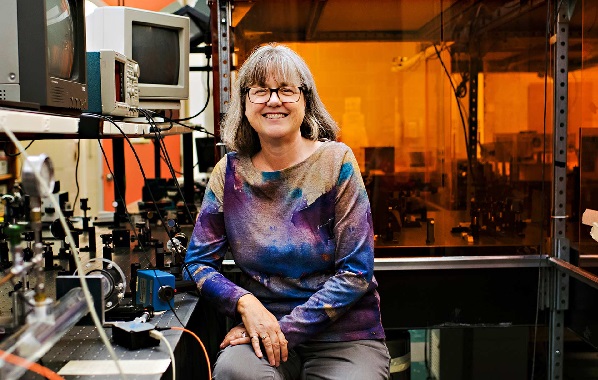 Nobel Prize in Physics 2018 Winner Donna Strickland Profile, Biography, Education, Achievements in Laser Research, Awards, Optical Twizer Development
Donna Strickland the first woman in 55 years to win the Nobel Prize for the Physics. Donna Strickland was born on 27 May 1959 in Guelph, Ontario, Canada to Edith J. (née Ranney) and Lloyd Strickland. She has a sister Anne and a brother Rob.
Donna Strickland married fellow Rochester laser scientist Douglas R. Dykaar. They have two children Adam and Hannah.
She received her first degree in physics in 1981 from McMaster University. She studied optics at the University of Rochester, in New York state whilst working towards her PhD. Her doctoral Thesis, supervised by Gerard Mourou, was titled "Development of an ultra-bright laser and an application to multi-photon ionization".
Strickland's recent work has focused on pushing the boundaries of ultrafast optical science to new wavelength ranges such as the mid-infrared and the ultraviolet, using techniques such as two-colour or multi-frequency techniques, as well as Raman generation.
In 1985, while at Rochester, Gerard Mourou and Donna Strickland co-invented chirped pulse Amplification for lasers, a method of generating ultrashort optical pulses of high intensity.
Donna Strickland, a Canadian physicist, was awarded the 2018 prize jointly with Gérard Mourou, from France, for their work on generating high-intensity, ultra-short optical pulses. They share the award with an American, Arthur Ashkin, who at 96 becomes the oldest Nobel Laureate, for developing "optical tweezers."
Born:
27 May 1959 (age 59 years), Guelph, Canada
Education:
McMaster University, University of Rochester
Awards:
Nobel Prize in Physics