E-governance: different initiatives by government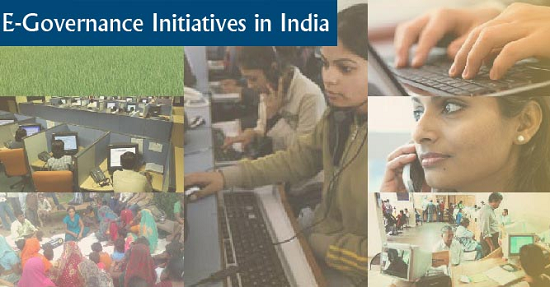 E-governance: Different Initiatives by Government And Goals of
e-Governance
The e in e-Governance stands for 'electronic'. Thus, e-Governance is basically associated with carrying out the functions and achieving the results of governance through the utilization of ICT (Information and Communications Technology).
E-Governance is no more and no less than governance in an electronic environment. It is both governances of that environment and governance within that environment, using electronic tools.
Goals of e-Governance:
Better service delivery to citizens
Ushering in transparency and accountability
Empowering people through information
Improved efficiency within Governments
Improve interface with business and industry.
Some Initiatives in the same field:
Computerization of Land Records: In collaboration with NIC. Ensuring that landowners get computerized copies of ownership, crop and tenancy and updated copies of Records of Rights (RoRs) on demand.
Bhoomi Project: Online delivery of Land Records. Self-sustainable e-Governance project for the computerized delivery of 20 million rural land records to 6.7 million farmers through 177 Government-owned kiosks in the State of Karnataka
E-Seva (Andhra Pradesh): This project is designed to provide 'Government to Citizen' and 'e-Business to Citizen' services.