Updated By: LatestGKGS Desk
Indian Railway Train-18 Costing, Technology, Features, Trial, Launching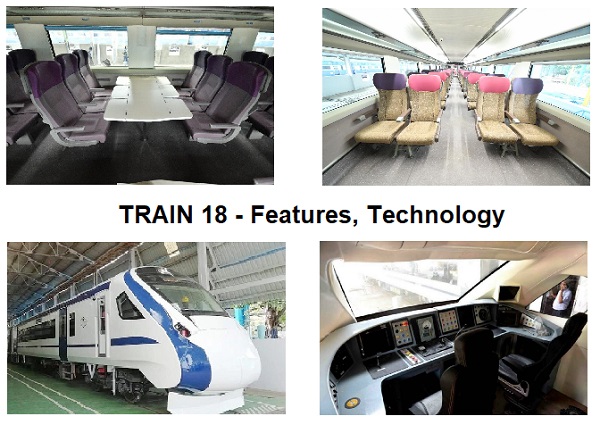 Indian Railway: Train-18, India prepares the country's first engine-free rail launching on October 29.
Indian Railways, the country's first engineless high-speed train was created. This train information was recently released by the Ministry of Railways. This train has been named Train-18. It will be launched on October 29.
This train is fully prepared and its first trial run has been fixed on October 29. The speed of this special train will be 160 km/hour. It has been named as train-18 because it is being launched in 2018. Using another special technique, another train named "Train 20" has been built.
Features of Train-18
These two trains are being constructed under the "Make in India" campaign in Chennai's Rail Coach Factory. Their cost of construction will be half of the cost of trains imported from abroad.
This train will not have a locomotive engine. Instead, there will be train motors in every coach of the train, with the help of which all coaches will run on the tracks.
The railway ministry claims that the train will reduce travel time by 20 percent compared to the normal train. The driver cabin will have a management system, which will control the pilot brake and automatic door control.
Train coaches have been prepared in Chennai's Integral Coach Factory. There will be 14 non-executive coaches in this. 78 passengers will be able to sit in train 18 in every coach. While there will be 2 non-executive coaches, it will accommodate 56 passengers per coach.
Latest Indian Railways Updates