Updated By: LatestGKGS Desk
e-Governance: PARIVESH Window Platform For Environmental Clearance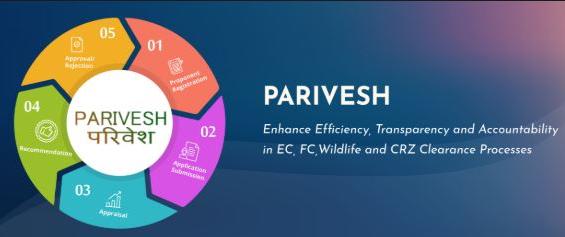 e-Governance: PARIVESH Window Platform For Environmental Clearance: Details, Features, Aim, Benefits, Highlights
PARIVESH, an ambitious web-based single-window system will be rolled-out at state levels by 15th January 2019, bringing an end to the clearance problems for entrepreneurs.
PARIVESH is an automated system for submission, clearance, and monitoring has already been implemented at the Central level.
PARIVESH is an environmental single window hub for Environment, Forest, Wildlife and CRZ clearances. This Single-Window Integrated Environmental Management System has been developed in pursuance of the spirit of 'Digital India' initiated by the Prime Minister and capturing the essence of Minimum Government and Maximum Governance.
PARIVESH offers a framework to generate economic growth and strengthens Sustainable Development through e-Governance. With automatic highlighting of non-compliance by the system, PARIVESH helps in improving the overall performance and efficiency of the whole appraisal process.
The facility of Geographic Information System (GIS) interface for the Appraisal Committee will help them in analyzing the proposal efficiently, automatic alerts (via SMS and emails) at important stages to the concerned officers, committee members, and higher authorities to check the delays if any.
PARIVESH also enables project proponents, citizens to view, track and interact with scrutiny officers, generates online clearance letters, online mailers, and alerts to state functionaries in case of delays beyond stipulated time for processing of applications.