Updated By: LatestGKGS Desk
Geomorphology : Geomorphic Process Impacts on Biomass, Ecosystem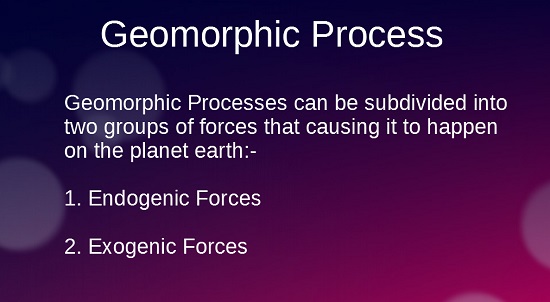 The geomorphic process causes, definition, impact on the planet landmass
The surface of the earth is not a plain platform following various density and elements present in the upper crust.
Earth's surface is distributed unevenly with a variety of landforms like mountains, hills, plateaus, plains, ravines, cliffs, etc.
Why is the surface of the earth uneven?
What makes changes in the earth's surface?
What process makes mountains and hills?
Geomorphic Processes are the answer to all the above questions related to the planet earth's surface unevenness and composition.
Geomorphic Process
On the planet earth, the formation and deformation of landforms are a continuous process.
This process of deformation (entropy) of landforms which is due to the continuous influence of external (Outside the planet) and internal (On the planet surface coming from its interior) forces.
These internal and external forces causing stresses and chemical action (reaction) on earth's surface materials and bringing about changes in the configuration of the surface of the earth are known as geomorphic processes.
Geomorphic Processes can easily be subdivided into two groups of forces that causing it to happen on the planet earth:-
1. Endogenic Forces
2. Exogenic Forces