Jammu & Kashmir's Chenani-Nashri Tunnel Details, Features, Specification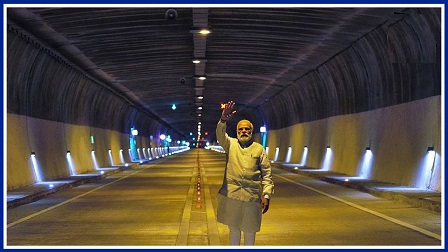 Jammu & Kashmir's Chenani-Nashri Tunnel Details, Features, Specification
Chenani-Nashri Tunnel also known as the 'Patnitop tunnel' is going to be renamed after Bharatiya Jana Sangh founder Dr. Shyama Prasad Mukherjee, whose battle for Kashmir, One Nation One Flag has immensely contributed in national integration.
Chenani-Nashri Tunnel is a 9.2-kilometer-long tunnel which is the longest tunnel in Jammu and Kashmir and is located on National Highway (NH) 44.
Chenani-Nashri Tunnel bypasses snow-bound upper reaches and provides a safe, all-weather route to commuters traveling from Jammu and Udhampur to Ramban, Banihal, and Srinagar.
Chenani-Nashri Tunnel, a bi-directional tunnel reduces distances between Jammu and Srinagar by 30 km and travel time by 2 hours.
Chenani-Nashri Tunnel a single-tube bi-directional tunnel, with a 9.35-meter carriageway, and a vertical clearance of 5-meters. There is also a parallel escape tunnel with 'Cross Passages' connecting to the main tunnel at intervals of 0.30 Km.
Chenani-Nashri Tunnel is equipped with world-class security systems and has smart features like ventilation, surveillance and broadcast systems; fire-fighting systems; integrated traffic control systems (ITCS); and SOS (emergency) call-boxes at every 150 meters.
Apart being India's longest road tunnel with a length of 9.28 km (5.8 mi) Chenani-Nashri Tunnel is also India's first tunnel with a fully integrated tunnel control system.