Updated By: LatestGKGS Desk
Geomorphology: Geomorphic Agents Names, Types, Role, Importance in building landmass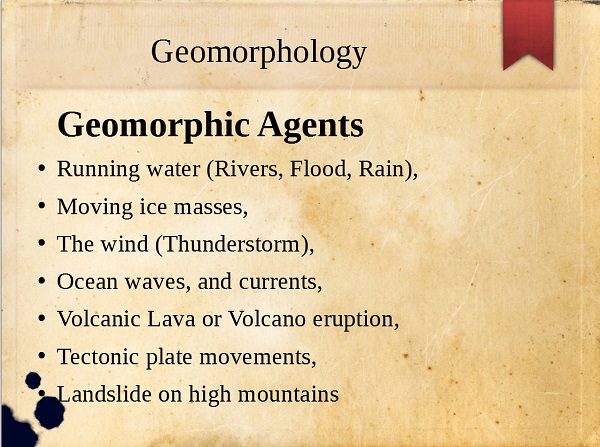 The List of Geomorphic Agents and their impact on the planet earth geomorphology
In the branch of geomorphology running water, groundwater, still water, glaciers, the wind, thunderstorms, waves, and ocean currents, etc., can be identified as geomorphic agents.
A process is a force applied on earth materials affecting the same.
The geomorphic agent is always a mobile medium. The best examples of geomorphic agents are:-
1. Running water (Rivers, Flood, Rain)
2. Moving ice masses,
3. The wind (Thunderstorm),
4. Ocean waves, and currents
5. Volcanic Lava or Volcano eruption
6. Tectonic plate movements
7. Landslide on high mountains
Above mentioned geomorphic agents capable to remove, transport, and deposit earth materials from one geographical location to another under the effect of various natural planetary processes.