Updated By: LatestGKGS Desk
PM Narendra Modi Visited Sweden Signed 6 MoUs with Sweden, Denmark & Iceland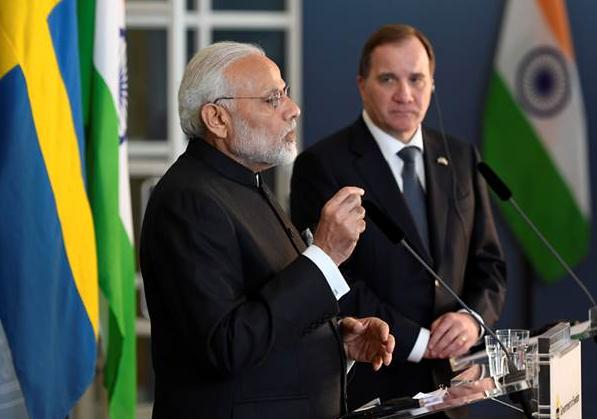 PM Narendra Modi Visited Sweden Signed 6 MoUs with Sweden, Denmark & Iceland
Prime Minister Narendra Modi is on a five-day visit to Sweden, United Kingdom & Germany. The visit to the three European nations aims at enhancing bilateral cooperation in key areas like trade, investments and Science & technology.
PM Narendra Modi on the first leg of his visit, reached Sweden where he attended the first-ever India-Nordic Summit at Stockholm, co-hosted by India and Sweden.
India-Nordic Summit in Stockholm was also attended by the Prime Ministers of Finland, Norway, Denmark and Iceland.
India on the occasion signed 6 Memorandums of Understanding (MOUs) and Agreement with Sweden, Denmark and Iceland on 17th April 2018 in India-Nordic Summit, Stockholm.
Following is the list of MOUs and Agreement
MOUs/Agreements between India and Sweden
Joint Declaration on India-Sweden Innovation Partnership for a Sustainable Future between Ministry of Science and Technology of India and the Ministry of Enterprise and Innovation
MOUs/Agreements between India and Denmark
MOU on Cooperation in the field of Sustainable and Smart Urban Development between the Ministry for Housing and Urban Affairs of India and the Ministry of Industry, Business and Financial Affairs of Denmark
MOU on Cooperation in the fields of Animal Husbandry and Dairying between Department of Animal Husbandry, Dairying & Fisheries, Ministry of Agriculture & Farmers Welfare of India and the Danish Veterinary and Food Administration, Ministry of Environment and Food of Denmark
MOU on Food Safety Cooperation between the Food Safety and Standards Authority of India and the Danish Veterinary and Food Administration
MOU on Cooperation in Agricultural Research and Education between the Indian Council of Agricultural Research and the University of Copenhagen, Faculty of Science, Denmark
MOUs/Agreements between India and Iceland
MOU on the Establishment of the ICCR Chair for the Hindi Language between Indian Council for Cultural Relations and the University of Iceland