Updated By: LatestGKGS Desk
National Technology Day Observed On 11th May 2018- Theme, Celebrations Details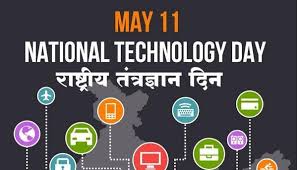 National Technology Day Celebrated On 11th May 2018- Theme, Celebrations Details
National Technology Day was celebrated across India on 11th May to mark India's technological advancements and to promote the development of technology in various fields.
National Technology Day also commemorates to celebrate the anniversary of first of the five nuclear tests of Operation Shakti (Pokhran-II) Nuclear test, held from 11th May 1998 to 13th May 1998 in Pokhran, Rajasthan.
The National Technology Day-2018 official theme for this year is "Science and Technology for a Sustainable Future".
Celebrations In India
National Technology Day is celebrated on 11th May each year by the Union Ministry of Science and Technology.
National Technology Day is considered as a symbol of pursuit for technological creativity, scientific inquiry and the conversion of that pursuit in the integration of society, industry and science.
On the occasion of National Technology Day, several events are organised in technical institutions as well as engineering colleges all over India. Several Presentations, Interactive Sessions, Quizzes, Lectures and Competitions are also held to mark the day.
The President of India also presents National Technology Award on this day to individuals as well as companies for their immense contribution to science.
Technology and science ministers also come forward to celebrate the day by organizing many kinds of events for the development of science in India.