Updated By: LatestGKGS Desk
Atal Tunnel features connecting Manali to Leh highest tunnel in the world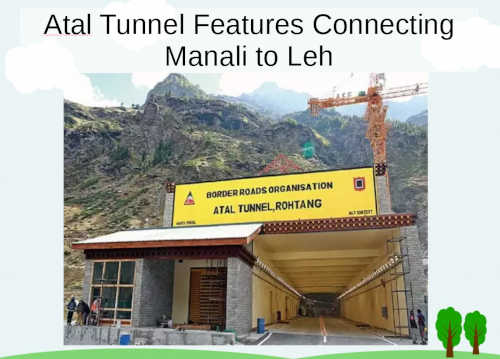 Atal Tunnel connecting Manali to Leh Features, Important Facts
Atal Tunnel starts operations on 3rd October connecting Manali to Leh. Atal Tunnel has the record of the highest tunnel in the operation in the world.
Atal Tunnel is a decades-old dream project for the local region that will reduce the length of travel time between two destinations.
Special Features of the Atal Tunnel are:-
1. Atal Tunnel is situated at 10000 feet from sea level in Peer Panjaal mountain valley.
2. Atal Tunnel reducing 46 Kilometer distance between Manali to Leh.
3. Atal Tunnel reducing 4 hrs in the journey from Manali to Leh as 7 Hrs to 3 Hrs only.
4. Atal Tunnel to serve as the beneficiary gateway for farmers to sell their agricultural yield in Kullu Market on time.
5. Atal Tunnel will ensure the transportation of food and fuel in the winter season.
6. There is a certain kind of fear from increased transportation that might ruin the biodiversity of the region.
Latest Himanchal Pradesh Updates