73rd Independence Day: PM Narendra Modi Speech & Key Announcements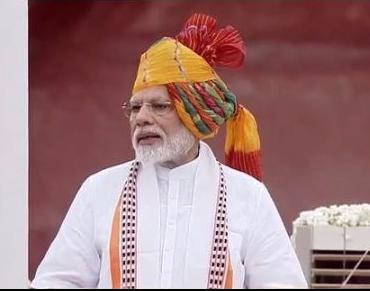 73rd Independence Day: PM Narendra Modi Speech & Key Announcements
Prime Minister Narendra Modi on the auspicious occasion of 73rd Independence day on 15th August 2019, unfurled the national flag at the Red Fort, New Delhi.
PM Narendra Modi received a Guard of Honour from a contingent of the Army, Navy, Air Force and Delhi Police.
M Narendra Modi Speech & Key Announcements
One nation, one constitution spirit has become a reality after scrapping of provisions of Article 370.
There is a 'huge' scope for improvement in the tourism sector and everyone should visit at least 15 tourist destinations within India by 2022.
India can become a 5 trillion dollar economy in the next 5 years.
Government to invest Rs 100 lakh cr in infrastructure building.
Jal Jeevan Mission to ensure safe drinking water to all households was announced. The government will spend Rs 3.5 lakh crore for it.
Government has an aim is to reach among the first 50 nations in ease of doing business.
Implementation of GST achieved One Nation, One Tax. India achieved One Nation, One Grid in the energy sector. Arrangements have been made for One
Nation, One Mobility Card and India endorsed the idea of One Nation, One Election emphasizing the need for democratic discussions on the issue.
PM gave a motto to boost digital payment- 'Yes to digital payment, No to cash'.
A transfer of about Rs. 90,000 crores to farmers' bank accounts is in progress to those who are beneficiaries of PM Kisan Samman Nidhi Yojana.
1.5 lakh wellness centers will be created at villages.
Creation of Chief Defence Staff
Also, bravery awards and gallantry awards were conferred on the Indian Armed Forces personnel and police men's.