Updated By: LatestGKGS Desk
ISRO Successfully Launched IRNSS-1I Navigation Satellite on 12th April 2018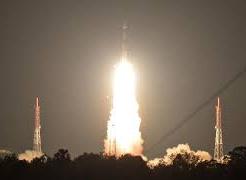 ISRO Successfully Launched IRNSS-1I Navigation Satellite- Details, Features, Background
Indian Space Research Organisation (ISRO) has successfully launched the IRNSS-1I navigation satellite from the Sriharikota spaceport near Chennai on 12th April 2018.
The IRNSS-1I navigation satellite was launched from the PSLV-C41 rocket (Polar Satellite Launch Vehicle) at 4:04 AM.
The PSLV-C41 rocket with a height of 44.4 meters and weight of 321 tonnes carried IRNSS-1I navigation satellite at the normal lift-off. It took place in four stages and took 19 minutes to place the satellite in designated orbit.
This was an overall 20th flight of PSLV-XL version and 41st successful mission of total 43 of PSLV.
The IRNSS-1I navigation satellite has been launched to replace India's first navigation satellite IRNSS-1A.
The IRNSS-1I navigation satellite weighs about 1,425-kg satellite and has a lifespan of 10 years. It was developed by the Bengaluru-based Alpha Design Technologies, in collaboration with ISRO.
The Indian Regional Navigation Satellite System (IRNSS) has the operational name of NAVIC, an abbreviation for "Navigation with Indian Constellation".
The NAVIC system is the constellation of seven satellites, (IRNSS-1I, 1B, 1C, 1D, 1E, 1F and 1G) of which three are geostationary and four are non-geostationary. It is believed to provide location tracking within 20 meters of actual positions, especially in the 1,500 km area around the country's borders.
The NAVIC system has both civilian and military uses. It also helps in land, marine and aerial navigation. It facilitates many services like disaster management, vehicle tracking and fleet management visual and voice navigation for drivers
At present, the US and Russia currently have fully operational GPS systems. China and Europe are still in the process of deploying their full systems.
The need for an indigenous GPS was felt soon after the Kargil war with Pakistan when India was in need to have services of a satellite-based navigation system but did not have one.