Updated By: LatestGKGS Desk
21 June: International Yoga Day 2019 Theme, Updates, Aim, History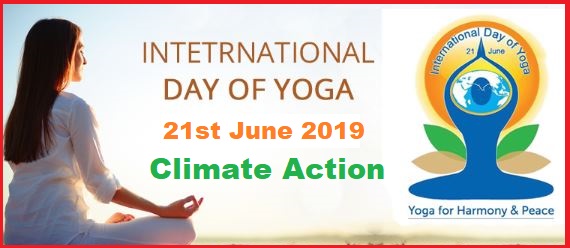 International Yoga Day 2019 Theme, Updates, Aim, History
International Yoga Day (IYD) is celebrated every year on 21 June across the globe aimed to highlight and spread awareness of the benefits of Yoga.
International Yoga Day inspires the inner and outer well-being of the human body, people across the world practice yoga in groups.
International Day of Yoga also aims to raise awareness worldwide of the many benefits of practicing yoga, a physical, mental and spiritual practice.
International Yoga Day 2019 Theme
International Day of Yoga-2019 theme is "Climate Action."
Clean environment plays a significant role in yoga. We practice yoga every day, but in the air, we are doing yoga, it must be clean.
Earth is constantly being harmed by irresponsible human activities, resulting in huge changes in climate conditions. Therefore, the UN has selected this theme to make people aware of climate change through yoga.
In India, IYD 2019 theme is yet to be announced by the AYUSH Ministry.
History
The first International Day of Yoga was observed all over the world on 21st June 2015. On 11th December 2014, the United Nations declared June 21 as International Day of Yoga in 2014 on the recommendations of Indian PM Narendra Modi.
The day June 21 was selected to mark the Yoga Day, as this day is the longest day of the year in the Northern Hemisphere and has special significance in many parts of the world.
The word yoga originated from Yuja, a Sanskrit word which means, "to join or to unite", symbolizing the union of body and consciousness.
Latest Updates
The Government of India has selected five cities namely, Delhi, Shimla, Mysore, Ahmedabad and Ranchi to hold National Programme of the International Yoga Day 2019.
It will be the government's first mega public event after Narendra Modi became Prime Minister for the second consecutive term.