GK Questions 6th May 2019 General Knowledge, Current Affairs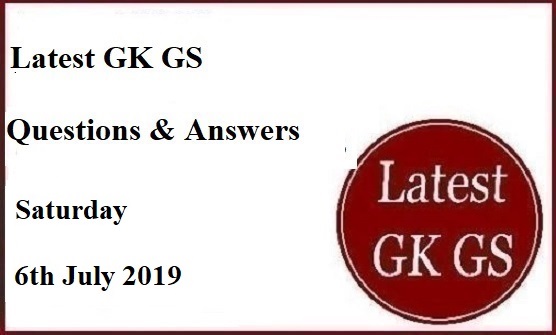 Daily GK Questions Saturday 6th July 2019 General Knowledge, Current Affairs
1. When is International Day of Cooperatives celebrations held across the world?
Ans:- 6th July
2. What is the name of the new water conservation scheme announced in Budget 2019?
Ans:- Jal Jeevan Mission

3. Name of education body announced in Budget 2019 to promote research in India?
Ans:- National Research Foundation

4. Union Government has proposed to make which two identity cards interchangeable?
5. In Union Budget 2019 which type of farming proposal initiated to double farmers income by 2022?
Ans:- Zero Budget Farming

6. Budget 2019 reduces the tax rate for companies having an annual turnover of up to Rs 400 crore. How much tax did companies need to pay now?

Ans:- 25 Percent

7. What will be ISRO's new commercial arm?
Ans:- New Space India Limited (NSIL)

8. As per Union Budget 2019, a new coin of which denomination to be introduced soon?
Ans:- Rs 20 coin

9. For which sector a new TV channel would be launched as announced in Budget 2019?
Ans:- Startups
10. How much amount is allocated in the Union Budget 2019 to boost credit in Public Sector Banks?
Ans:- Rs 70,000 crore

11. An encyclopedia is being developed on which freedom fighter?
Ans:- Mahatma Gandhi
12. Name the yojana that has been proposed by the Union Government for the fisheries sector?
Ans:- Pradhan Mantri Matsya Sampada Yojana