Updated By: LatestGKGS Desk
GK Questions 25th July 2019 General Knowledge, Current Affairs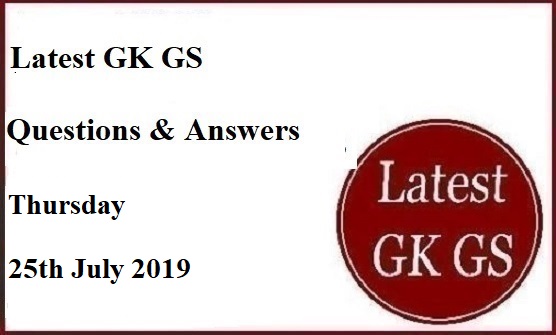 Daily GK Questions Thursday 25th July 2019 General Knowledge, Current Affairs
1. Who has been chosen as the next Prime Minister of United Kingdon?
2. India ranked at which position in Global Innovation Index 2019?
Ans: 52nd Position
3. UK & India launched which study in India scheme?
Ans: UKEIRI Mobility Programme Scheme
4. Which state government has decided to bring a legislation to ensure journalists' job security?
5. Biswa Bhusan Harichandan has taken charge as the Governor of which among the following states?
Ans: Andhra Pradesh

6. Which government department has initiated 'no bill, no payment' campaign on complaints about vendors charging money arbitrarily?
Ans: Indian Railways

7. In which city of India amount of pollutant particles of ozone has increased almost one and a half times during the last one year?
Ans: Delhi

8. Which country has recently imposed Carbon Tax?
9. Which state's assembly has passed a bill raising OBC quota to 27 percent?
Ans: Madhya Pradesh
10. After the successful launch of Chandrayaan-2 by India, which country has expressed a desire to work on space programs with India?
Ans: China
11. According to the IMF's World Economic Outlook, July 2019 what will be the growth rate of India in the year 2020-21?
Ans: 7.2%