Assam Government Launches New Cashless Atal Amrit Abhiyan Health Scheme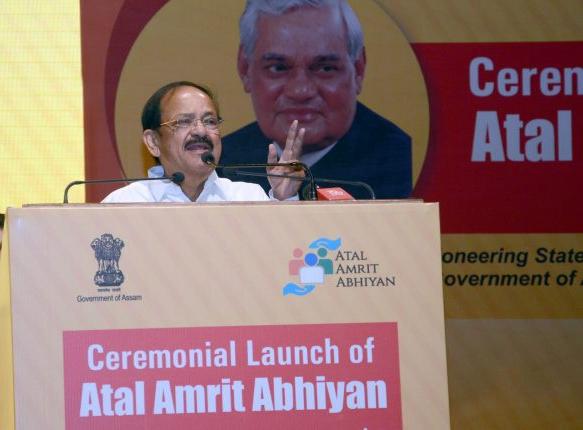 Assam Government Launches New Cashless Atal Amrit Abhiyan Health Scheme-Details, Features, Benefits
Assam Government has launched a new cashless health scheme for its state named as 'Atal Amrit Abhiyan' (AAA).
Vice President M Venkaiah Naidu launched the 'Atal Amrit Abhiyan' health scheme on 19th April 2018 at a function held at international convention centre of Srimanta Sankardev Kalakshetra in Guwahati, Assam.
The Atal Amrit Abhiyan health scheme offers free medical care of up to 2 lakh rupees for every individual from Below Poverty Line (BPL) and Above Poverty Line (APL) families.
The Atal Amrit Abhiyan cashless scheme will cover 92% of the state's population with annual income below 5 lakh rupees.
The Assam state government has earmarked 400 crore rupees for the scheme in the financial year 2018-2019. The Atal Amrit Abhiyan scheme has been named after former Prime Minister Atal Bihari Vajpayee.
The Atal Amrit Abhiyan scheme initiative is one step towards India's ambitious goal of achieving universal health coverage by ensuring equitable access to healthcare for all citizens, regardless of their income level, social status, gender, caste and religion.
According to WHO survey half of the people of the world cannot obtain quality health care facilities and 7 percent of the people of the country run out of money because of emergency health situations.