Updated By: LatestGKGS Desk
Maharashtra Government Completely Bans Plastic: Highlights, Excluding Plastic Items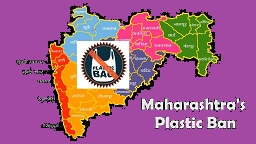 Maharashtra Government Completely Bans Plastic On 23rd June 2018: Highlights, Excluding Plastic Items
Plastic Ban Highlights

The ban is imposed on manufacturing, use, sale, distribution, and storage of plastic materials such as one-time-use bags, spoons, plates, thermocol items, disposable cups, forks, glasses, and containers.

Plastic packaging used to wrap and store the product is also included in the ban.

There will be no relaxation in fine. The fine for the first-time offenders will be Rs 5000 and for second-time offenders, it will be Rs 10000. A third violation will attract a fine of Rs 25000 and a jail term for three months.

Maharashtra government has also formed an association comprising of plastic manufacturers, ministry officials and environmental experts to oversee the implementation of the ban.
Maharashtra Tourism Development Corporation has been made responsible for regulating this law at tourist locations.
Plastic Items Excluded From The Ban Are:
Plastics used for packaging medicines and drugs
The plastic packaging of milk
Compostable packaging bags used for horticulture and agriculture purposes
The plastic bags used for exporting goods
The plastic used for handling of solid waste