World Tourist Meet: India gets Best Exhibitor Award at ITB–Berlin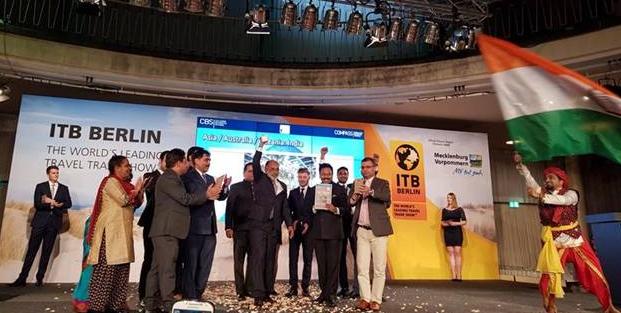 India Bagged Best Exhibitor Award at ITB–Berlin World Tourist Meet- Details, Features, About
India has won the 'Best Exhibitor Award' at ITB-Berlin on the concluding day of World Tourist Meet on 10th March 2018, held in Berlin, Germany.
The ITB-Berlin mega meet showed the participation of more than 100 countries along with their respective Tourist Ministers.
In ITB-Berlin mega meet, Union Minister of State (I/C) for Tourism, K. J. Alphons represented India, along with a couple of Tourism Ministry officials.
In ITB- Berlin mega meet, India's Incredible India (Ministry of Tourism) exhibited a short film named "Yogi of the Racetrack" which has received a massive 3.2 million hits in just 60 hours.
About ITB-Berlin
The ITB-Berlin (Internationale Tourismus-Börse Berlin) mega event is a world's largest tourism trade fair held at Messe Berlin, Germany annually every year in March.
The ITB-Berlin, a mega event trade fair, this year was held between 7th March 2018 to 10th March 2018.
The ITB-Berlin mega event trade fair was represented by companies from tourism sector including hotels, tourist boards, tour operators, system providers, airlines and car rental companies.