Prime Minister Narendra Modi Reached Nepal For Two day State Visit Details Purpose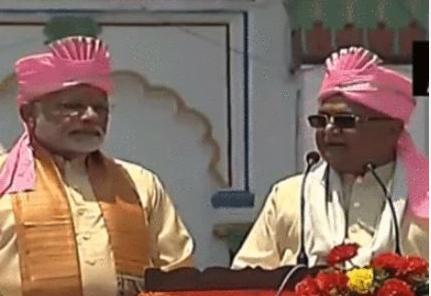 Prime Minister Narendra Modi Reached Nepal For Two day State Visit- Details, Objective, Purpose, Agenda
Prime Minister Narendra Modi reached Nepal's Kathmandu on 11th May 2018, for a two-day state visit with an objective to take forward the issues of mutual interest and partnership across diverse sectors.
On his arrival, PM Narendra Modi was presented a guard of honor at a ceremonial function at the Nepal Army Pavilion. The army also offered him a 21-gun salute.
PM Narendra Modi on his third visit to Nepal since assuming office in 2014, held extensive discussions with his Nepalese counterpart KP Sharma Oli and senior officials as part of efforts to reset bilateral ties, and the two sides reached a broad understanding of key issues ranging from cross-border connectivity to joint control of flooding along the frontier.
PM Narendra Modi has also announced Rs 100-crore package to develop the holy city of Janakpur in Nepal and claimed that the country is at the top priority of India's "Neighbourhood First" policy.
PM Narendra Modi and Nepali PM KP Sharma Oli also flagged off a bus service between Janakpur and Ayodhya, two holy sites for Hindus. The service is part of the Ramayana Circuit to promote religious tourism.
PM Narendra Modi also announced the gift of radiotherapy equipment for Nepal's Bhaktapur-based cancer hospital. Both the leaders also agreed to show cooperation in the field of Agriculture, Border Security, Tourism and Education.
PM Modi and Nepal's PM KP Oli will also lay the foundation stone for the construction of the 900 MW Arun-3 Hydropower Project on Aruna River in Sankhuwasabha district of eastern Nepal, being developed by Indian company SJVN Ltd through remote control.
The Raxaul (Bihar)-Kathmandu rail link is also on the agenda of PM Modi's visit.