PM Narendra Modi Swearing-in Ceremony For 2nd Term: Date, Time, Guests Ministers List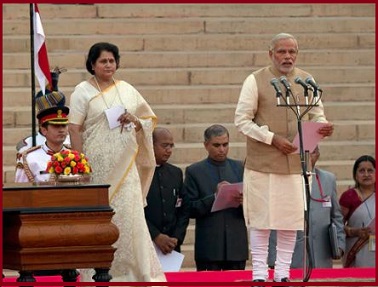 PM Narendra Modi Swearing-in Ceremony For 2nd Term: Date, Time, Guests, Ministers List
Prime Minister Narendra Modi after winning Lok Sabha Elections-2019 with 352 seats will be swearing again as a Prime Minister of India for a second consecutive term on 30th May 2019 (Thursday).
PM Narendra Modi swearing-in ceremony event will take place at the Rashtrapati Bhavan at 7 pm in the evening of 30th May 2019. The oath-taking ceremony will be administered by President Ram Nath Kovind.
PM Modi swearing-in ceremony will be attended by 6000 people chiefly participated by opposition leaders including Congress president Rahul Gandhi, West Bengal Chief Minister Mamata Banerjee, JD(S) leader, and Karnataka Chief Minister HD Kumaraswamy and Delhi Chief Minister Arvind Kejriwal among other cabinet ministers.
This time in swearing-in ceremony Modi regime has also invited the leaders of BIMSTEC (Bay of Bengal Initiative for Multi-Sectoral Technical and Economic Cooperation) and also invited Sooronbay Jeenbekov, the President of Kyrgyzstan who is the current Chair of the Shanghai Cooperation Organization (SCO) and to Mauritius Prime Minister Pravind Jugnauth, the Chief Guest 2019 Pravasi Bhartiya Divas.
Significance: These invitations were in line with the Government's focus on the 'Neighbourhood First' policy. The move holds diplomatic significance as it majorly outreaches India's neighborhood, engrossing Indian diaspora across the world.

India again ignored Pakistan and not send any invitation to Pak PM Imran Khan.