Updated By: LatestGKGS Desk
Indian Army Found Footprints of 'Yeti' or 'Him Manav' on Himalayas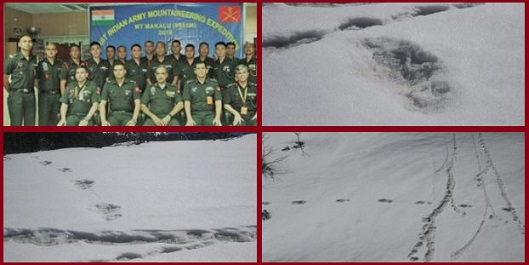 Indian Army Found Footprints of 'Yeti' or 'Him Manav' on the Himalayas: Details, Highlights
On 30th April 2019, Indian Army tweeted a few images in which giant mysterious footprints are shown which was captured on the Makkalu base camp near Nepal.
These mysterious footprints are expected to be of the mythical beast Yeti", commonly known as the "abominable snowman" or "Him Manav" that many over the decades claim to have seen, but without much proof.
These mysterious marks are up to 32x15 inches in size, which are unusual and has indicated the presence of snowman in the Himalayas.
This is not the first time when these marks made on ice have given snow sign of the Himalayas. Earlier it was sighted at Makalu-Barun National Park in the past.
Earlier, for the first time, photographs of Giant Footprints were printed in 1951.
In the year 2013, there was DNA analysis of related samples. Some samples were found by other animals, then two samples proved different. Scientist believed that they belong to the hybrid breed of bears
Latest Indian Army Updates