Updated By: LatestGKGS Desk
PM Narendra Modi In Jharkhand Launches Several Schemes: Overview, Highlights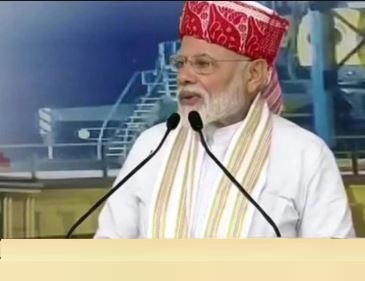 PM Narendra Modi In Jharkhand Launches Several Schemes: Overview, Highlights
Prime Minister Narendra Modi in Jharkhand launched schemes namely Kisan Maan-Dhan Yojana (KMY), Pradhan Mantri Laghu Vyaparik Mandhan Yojana (PMLVMY) and Swarojgar.
PM Narendra Modi also inaugurated Jharkhand assembly and schools in the state.
Kisan Maan-Dhan Yojana (KMY)
Kisan Maan-Dhan Yojana (KMY) is a monthly pension scheme for small and marginal farmers between 18-40 years and provides Rs 3000 after the age of 60 was launched in Ranchi, Jharkhand with an aim to benefit 5 crore farmers nationwide. The scheme is sanctioned at a cost of Rs 10,774 Crores for the next 3 years.
Under KMY, Farmers can contribute to KMDY in terms of installments from PM-KISAN scheme and through Common Service Centres (CSC).
Pradhan Mantri Laghu Vyaparik Mandhan Yojana (PMLVMY)
Pradhan Mantri Laghu Vyaparik Mandhan Yojana (PMLVMY) was launched with the aim of providing pension to small shopkeepers and traders benefiting 3 crores people in India.
PMLVMY provides a pension of Rs 3000 per month after 60years of age. Shopkeepers, traders and also self-employed people aged between 18-40 years with less than 1.5 crore turnover.
Multi-Modal Terminal at Sahibganj, Jharkhand
PM Modi dedicated the nation's second Multi-Modal Terminal(MMT) at the Sahibganj town of Jharkhand built across river Ganga under Jal Marg Vikas Project (JMVP).
This terminal will boost the cargo connectivity between India and Nepal and also enhance domestic coal transportation from the local mines in the Rajmahal area of Jharkhand to various thermal power plants. The other transportation products include coal, stone chips, fertilizers, cement, and sugar.
Building inaugurations
New Jharkhand Vidhan Sabha (state assembly building) was inaugurated by PM Modi and had also laid the foundation stone for the New Secretariat Building at Ranchi.
This assembly becomes the first paperless assembly of the country.
Residential Schools
462 Eklavya Model Residential Schools were inaugurated to provide education from basic till higher secondary education to Scheduled Tribe(ST) students in tribal-dominated areas.