GK Questions 6th October 2019 General Knowledge, Current Affairs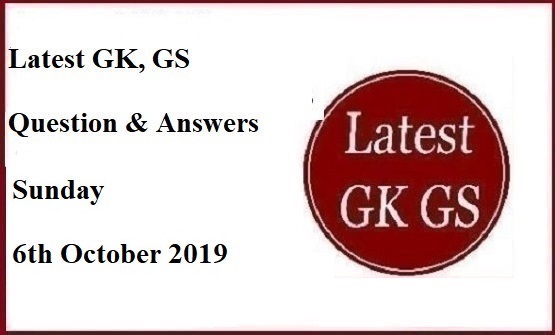 GK Questions 6th October 2019 General Knowledge, Current Affairs
1. India and Bangladesh signed how many agreements on 5th Oct 2019?
Ans: 7
2. Which Indian cricketer has become the first Indian player who played 100 T20 internationals?
Ans: Harmanpreet Kaur
3. Which PSU company has announced to launch an initiative to turn plastic into bitumen?
Ans: Indian Oil
3. As per IMD Smart Cities Index 2019, which smart city topped in India?
Ans: Hyderabad
4. Which Indian player has become the first Indian athlete to qualify for Tokyo Olympics 2020 in individual competition?
Ans: Avinash Sable
5. Who was recently named as MD and CEO of Tata Communications?
Ans: A.S. Lakshminarayanan
6. Which state has launched the YSR Vahana Mitra scheme recently?
Ans: Andhra Pradesh
7. What is the name of the audio guide facility app launched by the Ministry of Tourism?
Ans: Audio Odigos
8. Who among the following was recently appointed as chief justice of Punjab & Haryana High Court?
Asn: Ravishankar Jha
9. Which Union Ministry has instituted Vayoshreshtha Samman-2019?
Ans: Ministry of Social Justice and Empowerment
10. How many states including Delhi, Uttar Pradesh have issued 15 point guidelines to save Ganga from pollution?
Ans: 11
11. When is World Teachers' Day celebrated every year?
Ans: 5th October