GK Questions 5th October 2019 General Knowledge, Current Affairs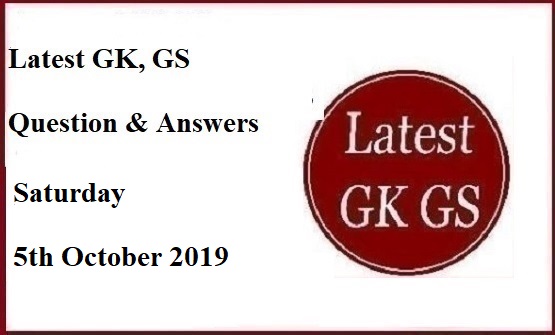 GK Questions 5th October 2019 General Knowledge, Current Affairs
1. When is World Teachers' Day celebrated every year?
Ans: 5th October
2. Indian Railways renamed the New Delhi- Lohian Khas New Delhi Intercity Express to what?
3. IRCTC privately run Train Tejas Express Starts From 5th October 2019, will run between which destinations?
Ans: Delhi To Lucknow
4. Indian Army Inducted which Israeli Missiles?
Ans: Spike Anti-Tank Guided Missiles
5. President of India appointed New Chief Justices for how many High Courts?
Ans: Seven
6. Who scored his maiden test century during India's first test against South Africa?
Ans: Mayank Agarwal
7. Which country released postage stamps on the occasion of the 150th birth anniversary of Mahatma Gandhi?
Ans: France
8. Who became the second fastest Indian to take 200 Test wickets after Pakistan's Pacer Wasim Akram?
Ans: Ravindra Jadeja
9. Which Indian state becomes first to launch policy on Pneumoconiosis?
Ans: Rajasthan
10. IAF releases a promotion video of airstrike done where?.
Ans: Balakot (Pakistan)
11. US military test-fired which ballistic missile?
Ans: Minuteman III ballistic missile
12. When is World Animal Day celebrated every year?
Ans: 4th October