GK Questions 9th October 2019 General Knowledge, Current Affairs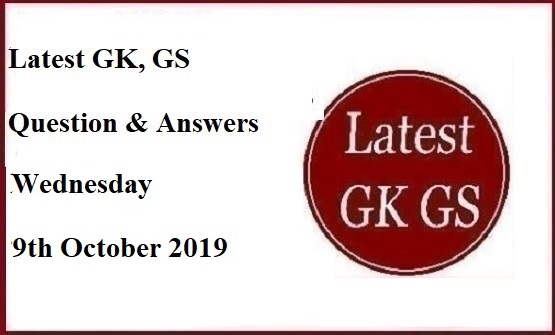 GK Questions 9th October 2019 General Knowledge, Current Affairs
1. Who won the 2019 Nobel Prize in Physics?
Ans: Michel Mayor, Didier Quelo & James Peebles
2. Who won the 2019 Nobel Prize in Medicine?
Ans: William G Kaelin Jr, Peter J Ratcliffe & Gregg L Semenza
3. Who will perform Shastra Puja in France after receiving the first Rafale fighter jet?
Ans: Rajnath Singh
4. Which organisation hosted the celebrations of the first World Cotton Day in Geneva?
Ans: World Trade Organisation
5. Justice Ajai Lamba recently took the oath as Chief Justice of which High Court?
Ans: Guwahati High Court
6. India recently received the first tranche of details about the Indian Citizens account in which institution?
Ans: Swiss Banks
7. Who has been awarded the UNEP's Asia Environmental Enforcement Award 2019?
Ans: Ramesh Pandey
8. When was the first World Cotton Day celebrated?
Ans: 7th October 2019
9. The Supreme Court directed which state government to assure that no more trees will be cut in the Aarey colony?
Ans: Maharashtra
10. How much monetary assistance will be provided to the families of battle casualties after the Government's latest hike?
Ans: Rs 8 lakh
11. Which country has fined 80 people and groups for alleged 1MDB payments?
Ans: Malaysia