Updated By: LatestGKGS Desk
GK Questions 15th October 2019 General Knowledge, Current Affairs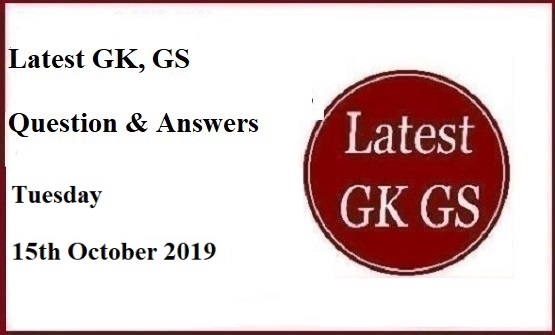 GK Questions 15th October 2019 General Knowledge, Current Affairs
1. when is the World Students' Day celebrated every year?
Ans: 15th October
2. When is the World Standards Day celebrated every year?
Ans: 14th October
3. Who was awarded Nobel Prize 2019 in Economics?
Ans: Abhijit Banerjee, Esther Duflo and Michael Kremer

4. Which medal was won by Indian boxer Manju Rani in the 48-kilogram weight category of the Women's World Boxing Championships?
Ans: Silver
5. What percent of India's growth rate has been projected by the World Bank for the current financial year?
Ans: 6%
6. When is World Day Against the Death Penalty observed?
Ans: 10 October
7. Which country's energy company 'Total' has announced to buy a 37.4 percent stake in Adani Gas?
Ans: France
8. Which international organization has recently published a report about the violation of labour rights in tea gardens of an Indian state?
Ans: Oxfam
9. On which social media platform, Prime Minister Modi has become the world's most-followed global leader?
Ans: Instagram
10. What is the name of an Indian nun who was declared saint by Pope Francis recently?
Ans: Mariam Thresia
11. What is the name of the person who invented the 'Phenakistoscope' and Google celebrated his 218th birthday with a Doodle recently?
Ans: Joseph Antoine Ferdinand
12. Which Indian player has won Dutch Open Badminton 2019?
Ans: Lakshya Sen
13. Which state/UT has started postpaid mobile service after 70 days of ban?
Ans: Jammu and Kashmir