Updated By: LatestGKGS Desk
GK Questions 16th October 2019 General Knowledge, Current Affairs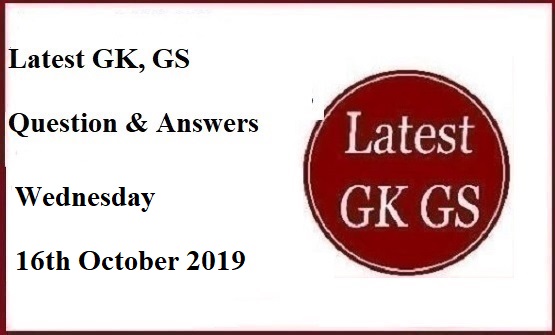 GK Questions 16th October 2019 General Knowledge, Current Affairs
1. When International Rural Women Day is observed every year?
Ans: 16th October
2. Which rule will decide a winner during a tie match as per the new ICC rule?
Ans: Super Over
3. Who among the following was recently elected as president of Tunisia?
Ans: Kais Saied
4. What is the name of a joint military exercise that will be held between India and Japan at Mizoram?
Ans: Dharm Guardian-2019
5. The United States recently imposed sanctions on which country over its incursion into Syria?
Ans: Turkey
6. Which Indian Airlines became the first in the world to use Taxibot on an A-320 aircraft with passengers on board?
Ans: Air India
7. Justice Arup Kumar Goswami was recently sworn-in as the Chief Justice of which High Court?
Ans: Sikkim High Court
8. Which authors won jointly the 2019 Booker Prize?
Ans: Margaret Atwood and Bernardine Evaristo
9. Who was awarded Nobel Prize 2019 in Economics?
Ans: Abhijit Banerjee, Esther Duflo, and Michael Kremer
10. when is the World Students' Day celebrated every year?
Ans: 15th October
11. when is the International Day of Rural Women celebrated every year?
Ans: 15th October