Updated By: LatestGKGS Desk
OLA Mobility Institute Report: Kolkata tops in public transport-Ease of Moving Index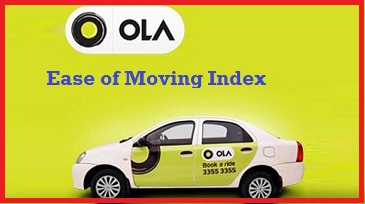 OLA Mobility Institute Report: Kolkata tops in public transport 'Ease of Moving Index': Details, Ranking, Key Finding Highlights
As per the study called 'Ease of Moving Index' by Ola Mobility Institute, the city of Kolkata topped among all metro cities in public transport.
The Ease of Moving Index 2018 covered 20 cities with over 43,000 people participating in the survey that measured perceptions on key aspects of urban mobility.
The survey consisted of the following aspects: Affordability, Safety, Cleanliness, Road Quality, Parking Availability, Air Quality, Conditions of Footpath & Cycle tracks, Usages of Cycles, Compactness of city and Environmental Awareness.
Key Findings
1. 80% of people in Indian cities-would prefer using public transport over personal vehicles.
2. Kolkata secured the highest score while Patna and Bhubaneswar topped the list for growing and emerging cities.
3. Kolkata outscored the other metros in terms of cleanliness and tops the charts when it comes to the affordability of public transport.
4. People in Chennai are the heaviest users of public transport among the metro cities while Mumbai scores lowest.
5. 51% residents of Mumbai preferred public transport than personal vehicles.
6. New Delhi was rated highly in terms of safety and ranked the best among the big cities in affording parking space to its residents.
7. New Delhi also has the best surface quality of roads.
8. In Hyderabad, the highest coverage of public transport.
9. Patna has the nearest bus stop at 8 mins away.
10. Ahmedabad scored highest in cleanest public transport services.
11. Women in Jabalpur feel the safest using public transport.
Interesting Findings
75% Indians believe electric vehicles will replace conventional vehicles by 2030.
85% people feel providing electric buses will improve public transport.

Overall Indian Metro City Scores:
Rank Metro City
1st Kolkata
2nd New Delhi
3rd Chennai
4th Hyderabad
5th Bangalore
6th Mumbai