Updated By: LatestGKGS Desk
List of all the presidents of India, tenure and their political journey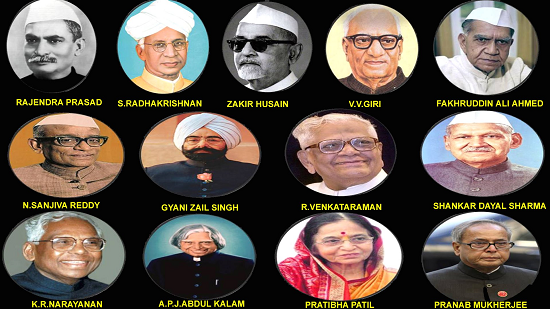 The President of India is considered the first citizen of the country. The President is the highest constitutional post of the country.
1. Dr. Rajendra Prasad:-Was the only President of India, who served for president for two terms. He was given Bharat Ratna in 1962.
2. Dr. Sarvapalli Radhakrishnan:- He was given Bharat Ratna in 1954.
3. Dr. Zakir Hussain:- Dr. Zakir Hussain became the first Muslim president of India, and he died on the post.
4. V V Giri:-V.V Giri was the fourth President of India. His full name is Varahagiri Venkatagiri. He was awarded Bharat Ratna in 1975.
5. Fakhruddin Ali Ahmed:-Fakhruddin Ali Ahmed was the fifth President of India The second president whose death was at the post of President. BD Jattha was made Acting President.
6. Neelam Sanjiv Reddy:- Became the sixth President of India and Chief Minister of Andhra Pradesh too.
7. Giani Zail Singh:- Prior to becoming the President, he was also the Chief Minister of Punjab and the Minister in the Center.
8. R. Venkataraman:- R. Venkataraman was Vice-President of India from 1984 to 87.
9. Dr. Shankar Dayal Sharma:- India's eighth Vice President From 1952 to 56 he was the Chief Minister of Bhopal.
10. K. R. Narayanan:- K. R. Narayanan was the first Dalit President of India and the first Malayali person to receive the highest office of the country.
11. Dr. A. P. J. Abdul Kalam:- Dr. A. P. J. Abdul Kalam is also known by India's Missile Man. He was the first scientist who took over the presidency and the first President of India who won the most votes.
12. Mrs. Pratibha Singh Patil:-Prior to becoming the President, Rajasthan was the Governor.
13.Pranab Mukherjee:-He was the Finance Minister in the Union Government before fighting the Presidential election.
14. Ram Nath Kovind:- India's 14th and present President. Ram Nath Kovind became President on July 25, 2017.