Updated By: LatestGKGS Desk
India and Tajikistan Presidents join hands to fight against terrorism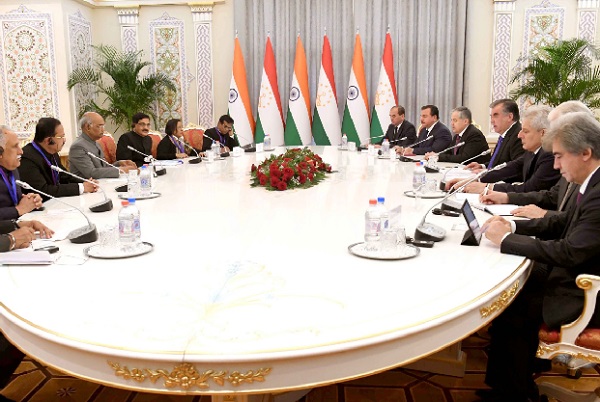 India Tajikistan: President Ram Nath Kovind and Imamoumi Rehman agree on nine agreements including Terrorism, Disaster Management, Culture, AYUSH, Renewable Energy and, Sports
Delegation level talks were held on 08 October 2018 with President Imamoumi Rehman, President of Tajikistan, under the chairmanship of President of India Ram Nath Kovind. In this meeting, the two countries signed nine bilateral agreements.
President Koovind praised Tajikistan for fighting terrorism during the talks and stressed the need for strong coordination in fighting terrorism, including cross-border terrorism.
After the bilateral talks between the representatives of India and Tajikistan, nine agreements, including defence, space technology, disaster management, coordinator project, culture, Ayush, renewable energy, youth and sports were signed.
President Ramnath Kovind stressed the importance of defence and coordinating projects to further enhance India-Tajik relations for the benefit of the people of both countries.
The presidents of both countries discussed the fundamental challenges of terrorism, especially in the context of Afghanistan. The heads of the two countries said that they are proud of bilateral strategic partnership and old friendship.
On the occasion, India announced a grant of US $ 20 million for development assistance projects to Tajikistan.
President Kovind addressed a seminar organized on 'Countering Radicalization: Challenges in Modern Societies' in Tajikistan University, Dushanbe.
After this, President Kovind held a separate bilateral meeting with Majlis Namoydgone of Majlisi Oli (lower house of Tajikistan's Parliament) and Tajikistan's Prime Minister Kohir Rasoologada.