Updated By: LatestGKGS Desk
GK Question 4th Oct 2018 Current Affairs, General Knowledge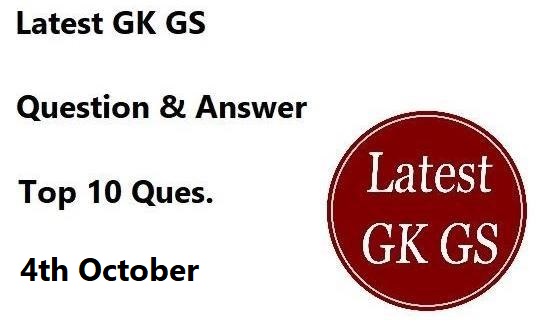 Daily GK Questions 4th October 2018 Current Affairs, General Knowledge
1. Which alcohol control initiative has been launched by the World Health Organization (WHO), recently?
Ans:- SAFER
2. According to UNCTAD's latest report "Trade and Development Report", which is India's GDP growth forecast for 2018?
Ans:- 7.0 %
3. The National Khadi Festival 2018 was held in which city?
Ans:- Mumbai
4. India's first methanol-based alternative cooking fuel is going to be established in which state?
Ans:- Assam
5. Which state government has launched its own food security scheme to cover those left out from NFSA?
Ans:- Odisha
6. The third highest national flag was unfurled recently in which city?
Ans:- Guwahati
7. Barham Salih has been newly elected as the President of which nation?
Ans:- Iraq
8. Which city has launched India's first flood forecasting and early warning system (FFEWS)?
Ans:- Kolkata
9. Who has been elected as the President of Hockey India?
Ans:-Mohd Mushtaque Ahmad
10. When was the International day of non-violence observed?
Ans:- October 2