Updated By: LatestGKGS Desk
GK Question 19th Oct 2018 Current Affairs, General Knowledge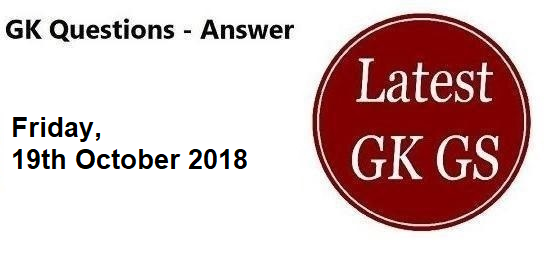 Daily GK Question 19th October 2018 Current Affairs, General Knowledge
1. Which Indian organisation released the guidelines for interoperability between Prepaid Payment Instruments (PPIs)?
Ans:- Reserve Bank of India
2. Who led Indian delegation at the 12th Asia Europe Meeting (ASEM) Summit 2018?
Ans:- Venkaiah Naidu
3. Name of the Union Minister who resigned recently from his post over sexual harassment allegations?
Ans:- MJ Akbar
4. Which country became the second one to legalise possession and use of recreational marijuana?
Ans:- Canada
5. What was India's rank in Global Competitiveness Index 2018?
Ans:- 58th
6. Which organisation releases the Global Competitiveness Index?
Ans:- World Economic Forum
7. Who won the Man Booker Prize 2018?
Ans:- Anna Burns
8. Who won India's first medal in Athletics at the Youth Olympic Games 2018?
Ans:- Suraj Panwar
9. Who won the prestigious Wildlife Fotografer of the Year Award 2018?
Ans:- 10-year-old Arshadeep
10. India's first Agri and food business online learning platform was launched in which city?
Ans:- Warangal
11. Which country successfully tested the largest unmanned transportation drone in the world on October 16, 2018?
Ans:- China
12. RBI has refused to extend the tenure of Rana Kapoor, MD and CEO of the bank?
Ans:- S-bank
13. Which chairman of the Welspun Group took over the presidency of the industry organization Assocham on October 17, 2018?
Ans:- Balakrishna Goenka