Updated By: LatestGKGS Desk
Daily GK Question Sunday, 21st October 2018 General Knowledge, Current Affairs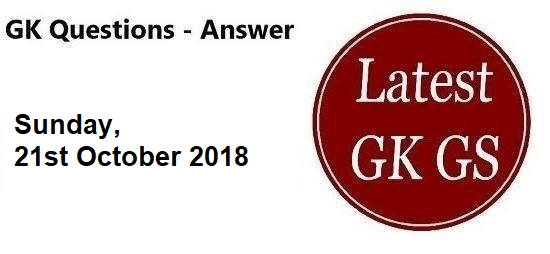 Daily GK Question Sunday, 21st October 2018 General Knowledge, Current Affairs
1. According to a report by the Chinese government-controlled newspaper 'The Global Times', which of the following countries can buy Chinese supersonic missile 'HD-1', which is being better than the BrahMos supersonic missile system manufactured by India and Russia?
Ans:- Pakistan
2. Which chairman of the Welspun Group took over the presidency of the industry organization Assocham on October 17, 2018?
Ans:- Balakrishna Goenka
3. In the case of the murder of a woman in Satlok Ashram in 2006, a court of Hisar (Haryana) on October 17, 2018, sentenced Rampal to 13 supporters along with 13 supporters?
Ans:- life prison
4. Canada has become the second country in the world after which country to become law-abiding for ganja?
Ans:- Uruguay
5. How many years after the end of the monarchy in Nepal, has the government made the Rajmukut, the sceptre and the Raj Talwar public?
Ans:- After 10 years
6. In which state will the railway station be built inside the tunnel, which will be the first station of this kind in the country?
Ans:- Himachal Pradesh
7. Which of the following is celebrated every year on World Food Day?
Ans:- 10 October
8. Which of the following is the 58th most competitive economy in the 2018 Global Competitiveness Index of the World Economic Forum (WEF)?
Ans:- India