GK Questions 8th June 2019 General Knowledge, Current Affairs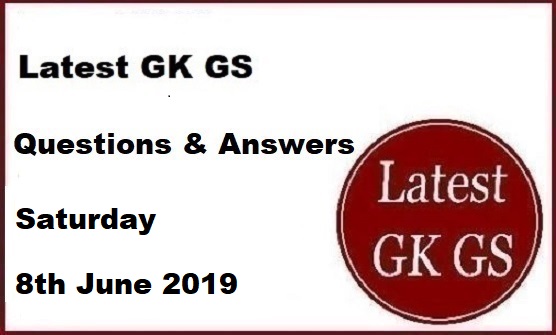 Daily GK Questions Saturday 8th June 2019 General Knowledge, Current Affairs
1. When is World Oceans Day observed?
Ans: -June 8th
2. When is World Food Safety Day 2019 celebration observed every year?
Ans: -June 7th
3. When is FIFA Women's World Cup 2019 starting?
Ans:- 7th June
4. Reserve Bank Of India (RBI) eliminates charges on which transactions?
Ans:- RTGS & NEFT Transactions

5. Where was 'Gandhi Cycle Rally for Peace' organized?
Ans:- Saudia Arabia

6. Under Swachh Bharat which league was launched by Union Housing and Urban Affairs Minister Hardeep Singh Puri in New Delhi?
Ans:- Swachh Survekshan 2020 league

7. Who was elected as the Prime Minister of Thailand?
Ans:- Prayuth Chan-Ocha
8. Which American author wins Women's Prize for Fiction?
Ans:- Tayari Jones

9. British Prime Minister Theresa May officially stepped down as the leader of which political party?
Ans:- Conservative Party
10. MS Dhoni wore which Indian Army Insignia Gloves with South Africa match in World Cup 2019?
Ans:- Balidaan Insignia