20 August: Sadbhavana Diwas 75th Birthday of Former Indian PM Rajiv Gandhi Observed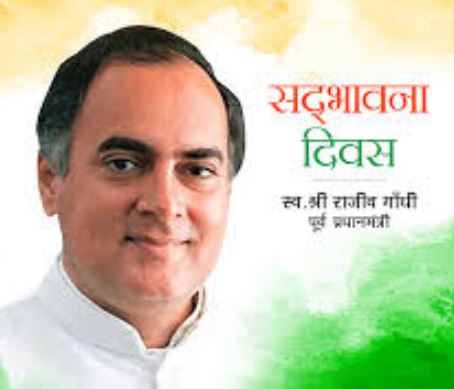 20 August: Sadbhavana Diwas 75th Birthday of Former Indian PM Rajiv Gandhi Observed: Details, Aim, Significance
Sadbhavana Diwas is celebrated every year on 20th August in India, by Congress party with an aim to leverage national integration, peace, love, affection, and communal harmony among the Indian people of all religion.
Sadbhavana means good feelings for others and Sadbhavana Diwas or Harmony Day is celebrated to commemorate the birth anniversary of the former Prime Minister Rajiv Gandhi.
Sadbhavana Diwas is observed every year in the memory of Rajiv Gandhi who dreamt to make India a developed country. Rajiv Gandhi's enthusiastic and inspiring words quoted for the country development in his speech are still remembered at his birth anniversary.
Sadbhavana Diwas is celebrated by the Congress party, political leaders, friends, close associates and family members in India by decorating the statue of Rajiv Gandhi through garlands and flowers.
Rajiv Gandhi
Rajiv Gandhi was born on 20th August 1944, He is the 6th as well as the youngest prime minister of India.
Rajiv Gandhi became the youngest prime minister at the age of 40.
Rajiv Gandhi assassination occurred as a result of a suicide bombing in Sriperumbudur, Chennai, Tamil Nadu, on 21 May 1991.