GK Questions 8th September 2019 General Knowledge, Current Affairs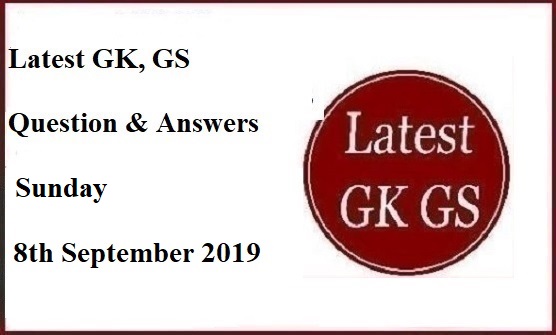 Daily GK Questions Sunday 8th September 2019 General Knowledge, Current Affairs
1. When is the International Literacy Day observed every year?
Ans: 8th September
2. Which countries conducting 9th maritime fleet naval exercise SLINEX 2019 in Vishakhapatnam?
Ans: India and Sri Lanka
3. ICC appointed whom as its General Counsel and Company Secretary
Ans: Jonathan Hall
4. Robert Mugabe passed away at the age of 95 on September 6, 2019. He served as the President of which nation for almost four decades?
Ans: Zimbabwe
5. Which country recently established a space command SpaceCom dedicated to space war?
Ans: USA
6. Modi Government recently passes over Rs 5,000 crore for which project of Air Force?
Ans: Akash missile project
7. India's Defence Minister Rajnath Singh officially visit to which nations in September 2019?
Ans: Japan and South Korea
8. Where did PM Narendra Modi lays the foundation of three metro corridors?
Ans: Mumbai
9. Which city is hosting the 28th edition of India-Thailand Coordinated Patrol exercise?
Ans: Bangkok
10. ISRO lost communication with Chandrayaan-2 on its landing before how many kilometers away from the moon?
Ans: 2.1 Kms
11. Who assumed the charge of Chairmanship of Association of World Election Bodies recently?
Ans: Sunil Arora