India set to sell Rupee bonds to raise capital in Singapore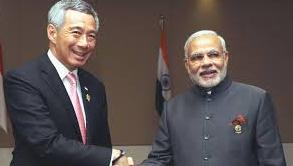 Singapore PM Lee Hsien Loong visit to India, Rupee bonds to raise capital for India in Singapore, signs MoU (memorandum of understanding) on Business Skill development and smart city Amravati taking Singapore India relations to new hights
Singapore PM Lee Hsien Loong and PM Narendra Modi share a great deal of understanding to take both countries relations to new hights. India and Singapore signs MoU field of mutual cooperations in skill development and support to help India.
Singapore and India are having a bilateral partnership which aims at combining the strengths of Singapore to India.
Singapore and India signed two MOUs focused on Skill Development
Singapore and India signed two MOUs (memorandum of understanding) focused on Skill development firstly to set up Skill Development Centres for the North Eastern States of India in Guwahati and secondly to set up a National Skill Development Council.
MOU will enable greater business to business exchanges and collaborations.
Singapore is the partner of the developing state Andhra Pradesh's Amravati.
Rajasthan is also working with Singapore, taking suggestions on urban development and waste management.
He also expressed his sorrow against the demise of the former President of Singapore S.R. Nathan, he conveyed that the president had a very close relation with India.