SpaceX launches Bangladesh's First Communication Satellite Bangabandhu-1 Details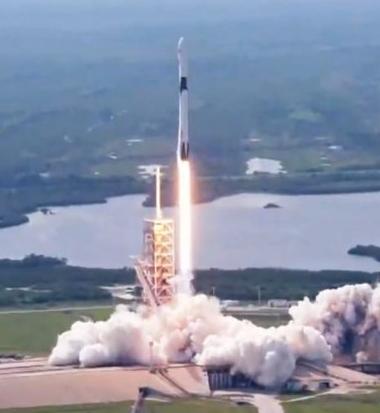 SpaceX launches Falcon 9 Rocket Carrying Bangladesh's First Communication Satellite Bangabandhu-1: Details, Significance, Purpose
US California-based aerospace company, SpaceX launched its most powerful rocket 'Falcon 9', carrying Bangladesh first ever communication satellite named as 'Bangabandhu' on 11th May 2018
The Space X's Falcon 9 rocket was launched from Kennedy Space Center Launch Complex 39A, Cape Canaveral, Florida.
Bangabandhu-1 satellite is designed to provide a wide range of autonomous broadcast and telecommunication services throughout Bangladesh. So far, a majority of Bangladesh's satellite communications was based on rented transponders from India. It will also provide a lot of opportunities in terms of revenue generation.
Bangabandhu-1 satellite has been built by Thales Alenia Space, a Franco-Italian aerospace manufacturer. It is named after Bangladesh's "Father of the Nation"- Bangabandhu Sheikh Mujibur Rahman.
Bangabandhu-1 satellite will provide citizens of Bangladesh Internet connectivity, phone services, radio, backhaul, direct-to-home (DTH) TV services and other communication-related services.
Bangabandhu-1 satellite carried a total of 40 Ku and C-band transponders with the capacity of 1600 megahertz and has predicted the lifespan of 15 years.
Bangabandhu-1 satellite is also believed to expand Ku-band coverage over all of Bangladesh and its nearby waters including Bay of Bengal, India, Nepal, Bhutan, Sri Lanka, Philippines and Indonesia.