Updated By: LatestGKGS Desk
Goa Liberation Day Celebrations On 19th December: Today in History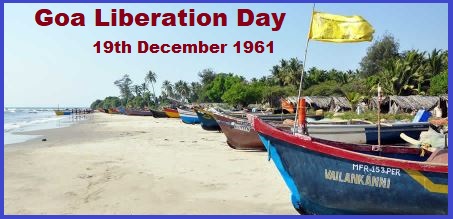 Goa Liberation Day Celebrations On 19th December: Today in History
Goa Liberation Day is celebrated on 19th December every year that marks the liberation of Goa from Portuguese control in the year 1961. It is a statewide celebration recognised as a regional public holiday in Goa, India.
Goa isIndia's smallest state located on the west coast of India,
History
By the end of the 15th century, Portuguese explorers, such as Vasco da Gama, had discovered a new sea route to India, making Goa an attractive base for the new trade routes.
In 1510, the Portuguese overthrew the ruling Bijapur sultan Yusuf Adil Shah with the help of a local ally, establishing a permanent settlement in Goa. This was the beginning of Portuguese rule in Goa that would last for over 450 years.
Goa prospered, becoming the largest city in Asia for a time, with a population of over 40,000. It became known as 'Rome of the East' and boasted over 300 churches.
After India gained its independence from the British in 1947, India requested that Portuguese colonies on the Indian subcontinent be ceded to India.
On 19 December 1961, the Indian Army invaded with Operation Vijay. It took 36 hours and ended with the surrender of the Portuguese Governor General Vassalo da Silva and the annexation of Goa, and of Daman and Diu islands into the Indian union.
On 30 May 1987, the union territory was split, and Goa became India's 25th state, with Daman and Diu remaining a union territory.
GOA
Established: 30th May 1987
Capital: Panaji
Largest City: Vasco da Gama
Districts: 2
Chief Minister: Manohar Parrikar
Governor: Smt. Mridula Sinha