Updated By: LatestGKGS Desk
44th anniversary of 1975 Emergency in India declared by Indira Gandhi: 25 June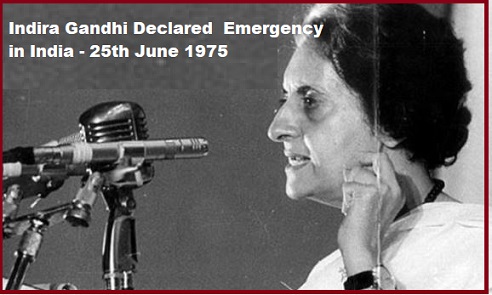 44th anniversary of 1975 Emergency in India declared by Indira Gandhi observed: 25 June
The 44th anniversary of 1975 Emergency in India was observed on 25th June 2019.
Indian Emergency was scheduled from 25th June 1975 to 21st March 1977, last for a 21 month period,
It was a state of emergency under Article 352 of the Constitution of India.
Indian 1975 Emergency was declared by President Fakhruddin Ali Ahmed, upon advice by Prime Minister Indira Gandhi.
Indian 1975 Emergency order gave the PM Indira Gandhi the authority to rule by decree, allowing elections to be suspended and civil liberties to be curbed.
Under Indian 1975 Emergency, most of Indira Gandhi's political opponents were jailed and the press was censored. Several other human rights violations were reported from the time.
Indian 1975 Emergency remains one of the most controversial periods of independent India's history.
Current, Prime Minister Narendra Modi took to Twitter handle and saluted all those greats who fearlessly resisted the Emergency in 1975. He also posted a video.
PM Narendra Modi wrote on his Twitter handle, "India salutes all those greats who fiercely and fearlessly resisted the Emergency. India's democratic ethos successfully prevailed over an authoritarian mindset."